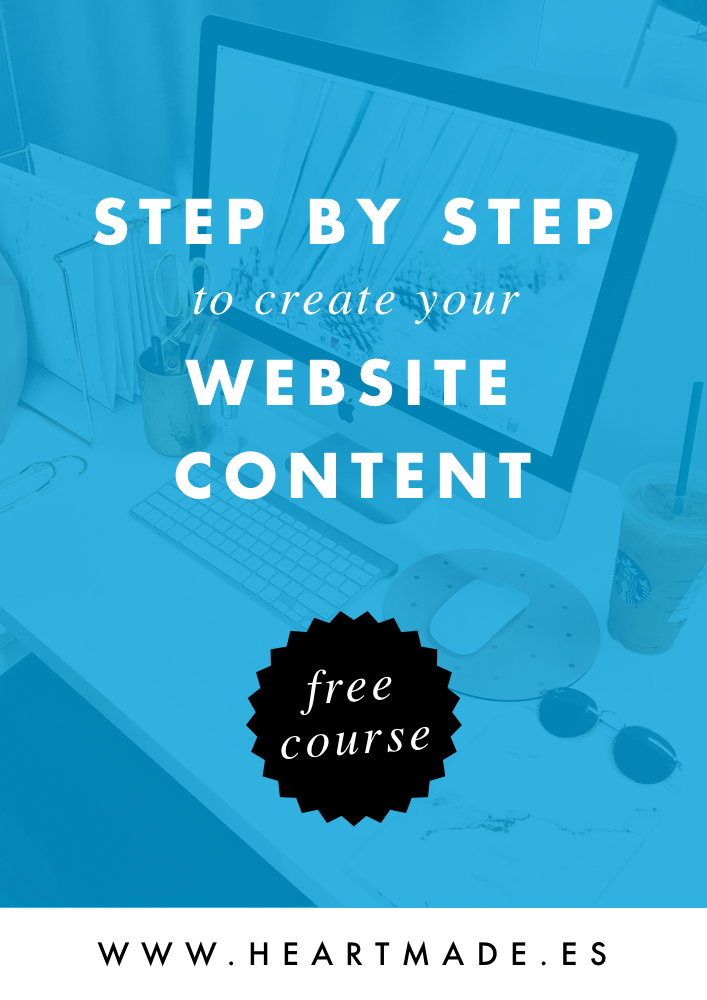 31 Aug

How to Create Your Website Content
I've been helping other creative entrepreneurs and small companies creating webs for them during the last 7 years and I realized that every single one of them struggles in one step: how to create their website content.
I'm amazed how long it took me to realize that the most important thing on their website (the content) is what they find more difficult to create.
Of course, my work and help are with design and development, but I always give me my advice on any questions they may have.
The funny thing is that most of their questions are:
– What should I write in the about page?
– Is it really necessary?
– I don't have any image for my services page…
– What size should I save the images to upload on my new website?
– etc
– etc
That's why after realizing this I decided to create a free video tutorial course to guide anyone who needs help to create their website content.
It doesn't matter if you end up creating your website with another developer or do it by yourself, my word for this year is TEACHING and that's all I want to do 🙂
If you feel you need help creating your website content, write here your name and email and you will receive my step by step techniques.
In this course you will learn:
· What to write in your about page
· What do you need on your services page
· For E-shops: What should you write in your collections page & products page
· Where to find free stock images
· Where to find cheap stock photography
· How to save images ready for the web
· SEO tips
· How to write your contact page
· How to decide what do you need on your home page
· How to write your legal pages (terms & services)
· What's the best platform to create your website or blog
· What do you need to start uploading your content in your new website
Every tutorial comes with a clear action to take. After watching each video you will know what steps you must take and you will be 100% ready to create your website content.
In a matter of days, you will have all that you need to finish your website.
It couldn't be easier 🙂
So remember, if you are struggling to create your website content, just subscribe in the form below and you will have your new web ready sooner than you thought: